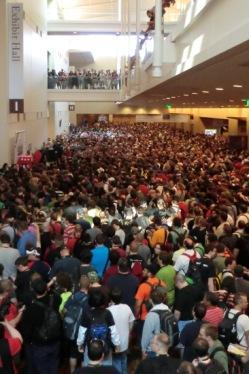 Imagine 50,000 people packed into a single indoor space. Now add a 20-foot tall Cthulhu (made entirely of balloons), a Stay Puft Marshmallow Man (in a top hat, no less), armies of warriors and monsters, and a roster of top sf and fantasy writers. Yes, it got crowded. But that's GenCon.
Never mind that the Indiana Convention Center provides 500,000 square feet of sprawling indoor space. There were still times when I found it impossible to walk without bumping into someone or something.
And did I mention that there was also a motorcycle convention in town. Yeah, you can't make this stuff up. I can only imagine what it must have seemed like to the residents of Indianapolis, seeing their city overrun with bikers and mythological beasts (there's a high-concept Hollywood film in there somewhere). Indeed, it must have seemed as if a trans-dimensional portal had . . . [Read more at The 21st-Century Scop].