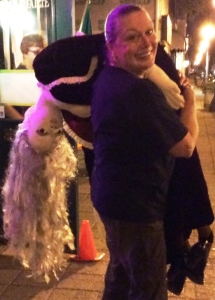 Only seven more scopping days till All-Star Story Night, and, if you're still wondering what to get that special someone, you might want to check out the limited edition Tri-Lax Chair (pictured here).
It's an inspired piece of German engineering, and it's also the subject of a story that Marlene Pendleton will be telling when she returns to Riley's Pour House for an encore performance on December 30.
A designer who studied art at AIP, Marlene created our Story Night mascot Babe the Mannequin (pictured at left), who graced the stage during our Mannequin Tales session back in July. Marlene also . . . [read and hear more at The 21st-Century Scop].