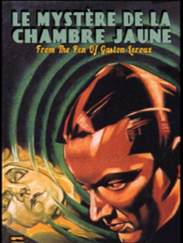 A woman enters a room. Closes the door. Then, from inside, a voice cries "Murder!" When her father breaks down the door, he finds her bleeding on the floor. She is alone. The windows are barred. There is no other exit. Yet the perpetrator is gone!
And so begins The Mystery of the Yellow Room (Le mystère de la chambre jaune) by Gaston Leroux (1908), a novel considered by many to be one of the greatest locked-door mysteries of all time.
Over the years, some of mystery's greatest writers have tried their hand at the subgenre, each attempting to outdo those who went before. Consider, for example, this locked-door scenario from the back cover of the 1983 Signet reprint of Ellery Queen's The Chinese Orange Mystery … [read more at The 21st-Century Scop].