Nightmare Cinema screened last night before a packed house at the Irish Film Institute. The event included a Q&A session with producer Mick Garris, who will also be screening his earlier hits Critters 2 and Sleepwalkers at the festival.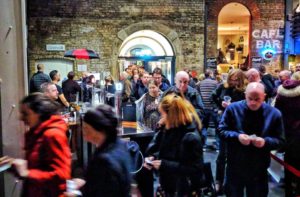 Next month, Nightmare Cinema returns to England for a screening in Leeds on November 9, then travels to Melbourne for an Australian premiere at Cinema Nova on November 23. After that, it returns north for two screening at The New York City Horror Film Festival on November 29.
Above: Mick Garris at IFI. Left: A full-house gathers in advance of Nightmare Cinema's Ireland premiere.
Clearly, Nightmare Cinema continues to be well received. Here's a sampling of some of the latest reviews, many of which have singled out our "This Way to Egress" segment as one of the film's standout episodes:
"This Way to Egress" [is] by far the slickest of the five in terms of production value. Shot in crisp black and white, as with his recent Black Mirror episode, Slade's segment mines nightmarish, surreal imagery as a woman (Elizabeth Reaser) suffering depression finds herself in a bizarre form of purgatory. — "IFI Horrorthon 2018 – NIGHTMARE CINEMA," Eric Hillis. The Movie Waffler.
A highlight is David Slade's surreal black and white offering, "This Way to Egress" – a hideously realised Silent Hill-esque metaphor for mental health. Unshackled from the thematic limits of mainstream horror cinema, it is a treat for the seasoned horror fan. —  "Mayhem Film Festival 2018 – Nightmare Cinema," Gemma Finch. Leftlion.
"This Way to Egress" combines the monochrome industrial landscapes of David Lynch with the body horror of David Cronenberg and Roman Polanski's vision of mental illness — "Review Sitges 51 – Nightmare Cinema," William Maga. Il Cineocchio.
It's good to see the film connecting so well with its intended audience.
Above right: Figures conspire behind frosted glass on one of the nightmarish sets created by Lauren Fitzsimmons. 
Above left: Elizabeth Reaser in her riveting performance as Helen, desperate to find a way out of a deepening nightmare.
So when does the rest of the world get to share our nightmares? Soon. I have it on good authority that an announcement regarding the release is imminent. When that news breaks, I'll be sure to report it here. For now, I'll leave you with a new video interview recorded this week at IFI featuring Mick Garris on the dream that became Nightmare Cinema.
Here's Mr Mick Garris giving the lowdown on Nightmare Cinema. More to come with his interview from 20.20 this evening! https://ifi.ie/horrorthon-2018-nightmare-cinema/

Posted by Irish Film Institute (IFI) on Friday, October 26, 2018