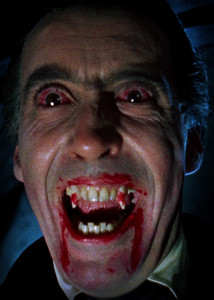 What happens when Dracula has too much to drink? The answer to that question and more was revealed at this month's Storytelling Night at Riley's Pour House.
Held on the last Tuesday of each month, Storytelling Night features stories told on a variety of themes. This month, in honor of Halloween, the theme was "Masks."
Our special guests were members of the Throughline Theatre Company, who are currently staging The Last Days of Judas Iscariot at The Gray Box Theatre in Lawrenceville. The play has been getting rave reviews, with one of them coming from the Pittsburgh City Paper, where reviewer Gwendolyn Kiste reports that Throughline "imbues the production with an emotional core that never wavers."
Among the Throughline members performing at this month's Storytelling Night were Patrick Connor, who spoke about his childhood memories of Vincent Price in House of Wax; Hazel Leroy, who presented a series of vignettes about her favorite theatre masks, and Michael McBurney, who told a tale about a retched (and retching) Count Dracula.
This month's performance marked Michael's second appearance at Storytelling Night. You can listen to the first by clicking here.
So what happens when Dracula has too much to drink? Click the player below, and all will be revealed.
Image: Christopher Lee in House of Dracula.