What a night. The place was packed and the old song were as fresh as ever. That's the thing with music. Musicians might get older, but the tunes remain timeless. Furthermore, since Riley's Pour House is the venue that the original members of the Laughrey Connolly Band played regularly before bandmate Chris Laughrey moved to the Rockies, performing our reunion show there only added to the magic. When we started, it seemed we had never been apart.
We got things rolling at 8:00 with "Las Islas de la Bahia." Penned by Chris, the tune features an infectious lead guitar riff that I never tire of playing. We always opened our shows with "Las Islas" back in the day, and launching into it again after a year and a half (our previous show was at the Muddy Buck in Colorado) felt just like coming home.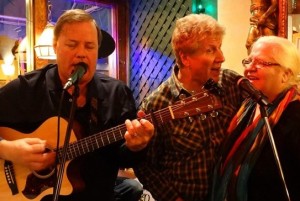 As the night got rolling we were joined by Lauren Connolly-Moore on mandolin and vocals and Tommy B on the big-green Pour House piano.
Among the night's special guest were Mike Gallagher and Casey Deely, who performed a sweet rendition of Shake Russell's "Deep in the West." Mike also performed "The Queen of Argyll," in honor of the late, great Andy M. Stewart who passed away on December 27.
I hear that a special memorial show is being planned for Andy. Since the show will feature musicians who performed on the tribute CD It's All in the Song, there a is good chance Laughrey Connolly could get back together again soon.
If we do, I'll be sure to let you know.
Until then .  .  . rock on!
Photo Credits:
– Laughrey Connolly with Lauren Connolly-Moore on mandolin and Tommy B on the keys. Photo by Molly Flynn von Vital.
– Mike Gallagher, Chris Laughrey, and Casey Deely singing "Deep in the West." Photo by the 21st-Century Scop.