It's the summer of 1977. I'm crashing at my brother Mark's apartment at Hotel Chelsea, dreaming of following in the footsteps of other writers who used that iconic landmark as their home base in New York City. It's the place where Arthur C. Clark worked on 2001: a Space Odyssey, where Alan Ginsburg revolutionized American poetry, and where Dylan Thomas drew his final breath. It's also where Nancy Spungen (girlfriend of Sid Vicious) was found stabbed to death. But that was a little later. For me, in the summer of 1977, it was a great place to launch some writerly dreams.
(Above) Hotel Chelsea, back in the day. (Right) Brother Mark and the 21st Century Scop with significant others in front of the Aristocrat Deli, next door to Hotel Chelsea, 1977.
Then, as now, Hotel Chelsea is flanked by the Aristocrat Deli on one side and a theatre on the other. But although the deli is the same, the theatre has changed. Back then, it was a performance space called the Squat Theatre – an experimental venue frequented by the likes of Andy Warhol and Nico.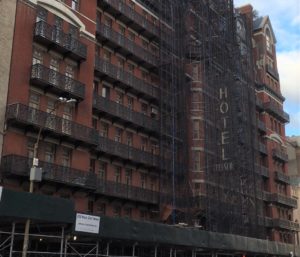 Today, Hotel Chelsea is cover in scaffolding, its distinctive red-and-white canopy (a newer version of the one shown above) hidden in a cavern of interlocking metal beams as the building undergoes a long-overdue renovation that began in 2016. Work is expected to continue into next year.
The Aristocrat Deli is much as before, but Squat Theatre is gone, replaced by the gleaming facade of Cineopopolis Chelsea, a massive movie theatre that later this evening will host the US premiere of Nightmare Cinema.
(Above) Hotel Chelsea under renovation. (Right) Squat Theatre at 256 West 23rd, as it looked shortly after its opening in 1977.
Today's screening of Nightmare Cinema is part of the New York City Horror Film Festival, where I'll soon be joining Producer-Director Mick Garris and Artistic Director Lauren Fitzsimmons for the opening-night event.
Also on hand will be filmmaker Nick Schwartz (who is currently developing an adaptation of my story "Prime Time!"). Nick will be joined by Dave Conte and Matt Braunsdorf. Their script The Blood Grinder is a finalist in the festival's scrip competition. It should be an exciting night.
Cineopolis Chelsea, on the site formerly occupied by Squat Theatre. 
Nightmare Cinema screens this evening at 7:00 PM. This will be your chance to see it before its general release to theatres and streaming in early 2019. If you're in town, I'll hope to see you there.
Also on the bill tonight is "Inked," a short film by director Kyra Gardner.
The program runs through the weekend.
I'll post some updates soon. Until then … scop on!