Utah! Home of the Sundance Film Festival, the Bingham Canyon Mine, and – this year – the Bram Stoker Awards.
My interest in surface mines is obvious, given the setting for the Veins Cycle, but this year's big draw in Utah is the World Horror Convention, where I'll be doing a number of book and media events later this week.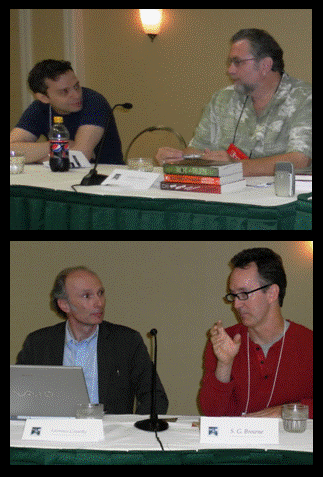 At 3:00 on Thursday, I'll be joining in a panel discussion on Social Media and the Writing Life. I moderated a similar discussion at last year's Stoker Weekend in New York, where I was joined by Matt Schwartz, Jonathan Maberry, and S. G. Browne. This time, I'm looking forward to simply serving as a panelist, joining Lincoln Crisler, Derek Clendening, and Gabrielle Faust in a discussion moderated by Loren Rhoads.
I've been working with Social Media since the days of the Macintosh SE/30 and dial-up modems. It was mostly email and bulletin boards back then. Now it's a lot of other stuff. Some of it is useful, but none of it the reason I got into writing in the first place. I have no problem going for days without posting to Facebook, using Twitter, or updating this website. Still, I'm always eager to hear what others are doing.
I plan to spend most the day on Friday networking, meeting with editors and writers, engaging in the kind of personal contact that still makes for the most effective form of Social Media.
Friday evening, I'll be joining some of the convention's other writers for a mass book signing and more social networking. The event is open to the public. 
HWA presents the 25th Stoker Awards on Saturday, and for me the programming day begins at 2:30 PM with readings from Voices, which is nominated for this year's Stoker Award. The selections will be some of the ones I presented at Horror Realm earlier in the month, and a few more that I will be presenting at a big homecoming event scheduled at the Jozart Center for the Arts in California PA on April 7.
I often feature original music with my readings, using instrumental tracks from Veins: The Soundtrack and employing techniques that I've written about in an earlier blog post,  Scop 101.
Fittingly, the reading will be followed by a 3:00 panel on Music in Horror, where I'll be joined by Guy Anthony De Marco, John Hornor Jacobs, Rain Graves, and Rio Youers.
The day will conclude with the Awards Ceremony, presided over by Jeff Strand and featuring a special award honoring The Vampire Novel of the Century, presented in conjunction with the Bram Stoker Family Estate and the Rosenbach Museum & Library. Dacre Stoker will be on hand to present that award.
The entire event will webcast live beginning at 9:00 PM, Mountain Time.
Here's an overview of my program events:
THURSDAY 29 MARCH
3:00 PM – Social Networking.  How blogs, facebook, twitter and other social media can help you network with others. (Loren Rhoads (M), Lawrence C. Connolly, Lincoln Crisler, Derek Clendening, Gabrielle Faust).
FRIDAY 30 MARCH
8:00 PM – Book Signing.
SATURDAY 31 MARCH
2:30 PM – Voices Reading.
3:00 PM –Music in Horror.  How it influences the "scar" and why we love it. (Lawrence C. Connolly, Guy Anthony De Marco, John Hornor Jacobs, Rain Graves (M), Rio Youers).
8:00 PM – HWA Bram Stoker Awards Banquet.