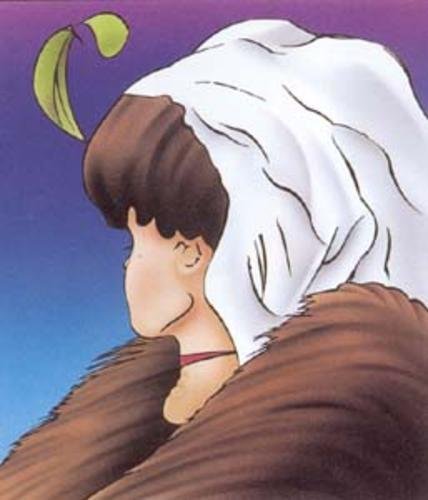 Is the woman in the portrait turning toward or away from the viewer? Is she young or is she old? And what if anything might she reveal about the name Ms. Ambertin?
It's enough to confound even a master sleuth, and yet–according to August LaFleur–everything you need to answer the questions and more may be hanging right before your eyes.
Such is the challenge that awaits you in Act III of Prime Stage Mystery Theatre's "A Most Deadly Poison," which drops today on a podcast platform near you … or at the newly designed program page on the Prime Stage Theatre website.
<<< A colorized version of the two-faced portrait from Dazzling News.
My previous post (which you can find here) deals with the history of the two-faced optical illusion pictured above. It also features a half-dozen variations of the image that appeared between 1888 to 2021. And since those versions are only a sampling of the renderings created since the graphic first appeared on a German postcard over 100 years ago, the current Myster Theatre episode also invites you to submit other variations (or any other intriguing mindbending pictures) you might know of. I'll try featuring some of them in a future post.
If you've been following the podcast, you're also aware that the walls of the room in which "A Most Deadly Poison" takes place are hung with two landscapes that may not be at all what they seem. Both have something in common with the painting at right (from Public Domain Vectors). Take a look. What do you see? And what might it reveal about how the letters in the names Sam D. Winter and Sam Stein can realign to identify their involvement in a murder?
As always, you can submit thoughts and questions to PrimeStage.com/contact or by simply posting a comment to this blog.
And if you'd like some wine to go with your most deadly poison, Prime Stage Theatre's production of Arsenic and Old Lace will be streaming via Broadway On Demand until May 29.
<<< Mr. Gibbs (Art DeConciliis) accepts a glass of elderberry wine from Martha Brewster (Suzanne Ward) in Prime Stage Theatre's production of Arsenic and Old Lace.
New episodes of Mystery Theatre drop each Thursday. You can access the most recent installment by clicking the player below, or–if you missed any past episodes–you can find them all at the Prime Stage podcast directory.
Click play. I'll meet you there.