Halloween comes early this year, with the September release of Halloween: Magic, Mystery, and the Macabre – another terrific anthology from award-winning editor Paula Guran and the good people at Prime Books.
The book is a follow up to Paula's 2011 anthology Halloween, which featured 33 classic reprints by the likes of Ray Bradbury, H. P. Lovecraft, Edgar Allan Poe, and F. Paul Wilson. It also featured a thoughtful essay about the origins and traditions of Halloween, which you can read here.
Unlike its predecessor, the new book features all-new Halloween-themed stories. I've just finished reading my copy, and it's a terrific book – perfect material for a cool autumn night.
Among the standouts is "The Halloween Men," a horror story by my good friend Maria V. Snyder, a writer more often associated with romantic fantasy than horror fiction. She and I currently serve as residency writers in the Writing Popular Fiction program at Seton Hill University, and at this summer's residency she attributed her foray into the macabre to hanging out with Michael A. Arnzen and me. She was being generous, of course. But regardless of how the story came to be, it's a terrific read. Set in a strange world where the wearing of masks is enforced by mysterious men in black robes, "The Halloween Men" displays the kind of spare yet fully-realized fantasy that has made Maria one of the best fantasy writers working today. If you haven't discovered her yet, consider checking out her books Scent of Magic, Poison Study, Touch of Power, and all the other titles that you can read about at MariaVSnyder.com. Good reading awaits.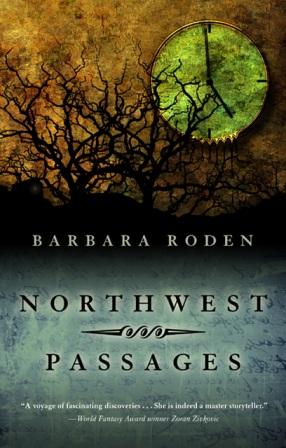 Another standout story is "All Souls Day" by Barbara Roden, who in recent years has established herself as one of the contemporary masters of short fiction. Publishers Weekly, in a review of her collection Northwest Passages, refers to her work as "deftly executed tales of subtle horror," and her story in this collection continues that tradition. Barbara is also a multi-award winning editor who, along with her husband Christopher Roden, has been running critically acclaimed Ash-Tree Press since its inception in 1994. I first met Barbara and Christopher at World Fantasy 2007, and we've been good friends ever since, getting together at the major conventions at least once or twice a year. In 2010 they edited and published This Way to Egress, the definitive collection of my horror stories.
Halloween: Magic, Mystery, and the Macabre also features terrific new stories by Laird Barron, Laura Bickle, Jay Caselberg, Brenda Cooper, Brian Hodge, Stephen Graham Jones, Caitlín R. Kiernan, Nancy Kilpatrick, Jonathan Maberry, Norman Partridge, John Shirley, Steve Rasnic Tem & Melanie Tem, Carrie Vaughn, A.C. Wise, and Chelsea Quinn Yarbro – some of the modern masters of magic, mystery, and the macabre.
Oh yes, it also contains one of my stories – a new tale of physiological horror titled "Pumpkin Head Escapes." And since the book releases this week, my friends and I get to do some early trick-or-treating.
Care to join us?
Image Credits:
Halloween: Magic, Mystery, and the Macabre,  Prime Books 2013. Scent of Magic, Harlequin 2013. Northwest Passages, Prime Books 2010. Jack Pumpkin Head, illustration detail by William Wallace Dinslow from L. Frank Baum's The Road to Oz (1909).