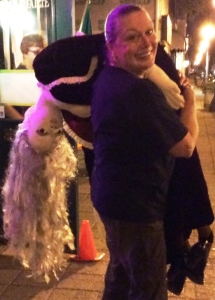 Only seven more scopping days till All-Star Story Night, and, if you're still wondering what to get that special someone, you might want to check out the limited edition Tri-Lax Chair (pictured below).
It's an inspired piece of German engineering, and it's also the subject of a story that Marlene Pendleton will be telling when she returns to Riley's Pour House for an encore performance on December 30.
A designer who studied art at AIP, Marlene created our Story Night mascot Babe the Mannequin (pictured at left), who graced the stage during our Mannequin Tales session back in July. Marlene also provided a story for that session, and you can listen to it by clicking the link below.
But Marlene's best-known Story Night tale, which brought down the house back in March, centers on the versatile Tri-Lax Chair, or (as she renames it for story purposes), the Try-Sex Chair. Since Marlene told the story a couple months before I took over as Story Night host, I know of the tale only through secondhand accounts. People are still talking about it. Join me at Riley's next Tuesday, and we'll both find out why.
All-Star Story Night at Riley's, which begins at 8:00 PM on Tuesday, December 30, will also include scop performances by Michael A. Arnzen, Joe Collucio, Larry Ivkovich, Owen Kilbane, Michael McBurney, Karyn Rok, Martha Swiss, Richard "Shaug" Shaughnessy, C. S. Wyatt, and Stephanie Wytovich — some of whom will be featured in upcoming spotlight posts.
Riley's Pour House is located at 215 Main Street, Carnegie, PA. You'll want to show up early if you want to get a seat. Arrive late, and you'll need to bring you own Tri-Flex.
Until next time, scop on!